Commercial Real Estate Lending
Private Money sources provide some of the fastest, most flexible options for Commercial Real Estate Lending.
There are 3 main necessities for successfully acquiring properties:

Finding good properties,

Knowing what to do with those properties, and

Having available Capital to purchase those properties and make repairs. 

---
Here's a 5-point check list to straighten out before a successful commercial property loan approval.

1. Are Tenant leases going to expire soon and if so, do the leases have automatic renewal clauses.  This scenario may lower the loan-to-value ratio, insist on lease extensions prior to closing — or  decline the loan request.
2. Does the Tenant mix include too many high risk businesses such as hair salons and restaurants?
3. Timely Rent payments?  The seller's record of tenants' payments will be scrutinized for consistency, timely & full payments.  Without consistent tenant payments, the buyer may need to consider alternative financing such as the Bridge Loan.
4. Does the buyer's Relative Experience match the intended property?  Does the buyer have the background to manage the various issues that will likely follow?  Will the buyer be able to handle the full scope of the work?  If not, is it possible to bring in a partner that can better meet this criterion?
5. Sufficient Liquidity. Working Capital is the life blood of any business, including Commercial Real-estate investing.    So it's critical the applicant be able to document Liquidity that is available prior to your loan application.    Whether the source is your own money, lines of credit, partners or investment groups, be ready to document that information prior to applying, have a clear picture where your liquidity will come from.  

Long term commercial real estate lending range from $100,000 to $10 million
Click here basic long-term Commercial Real-Estate loan guidelines.
---
Unlock the income potential with a Commercial Bridge Loan ...

... to make your investment possible.   You can obtain your property using a Commercial Bridge Loan for the first 1 – 3 years but you will need a workable exit strategy. It's possible to extend your Bridge Loan after your 3 years run out.   
The Commercial Bridge Loan option might be ideal if your urgency is simply to obtain the property, make improvements and then lease your property to full or near full capacity, and then set yourself up for low long-term funding.
You might consider a Commercial Bridge Loan if your credit score is low, the Commercial Bridge Loan would give you breathing room to consolidate balances, make efforts to correct your credit score, make repairs and then sell.    
These loans require fewer documents than long-term Commercial Real Estate Lending and less restrictive to approve so long as you, the borrower, have a workable end game as this 1-3 year loan comes to an end. 
Funding ranges from $500,000 to $100million. 
Click here for basic Commercial Bridge Loan guidelines
---
and New Commercial Construction Loans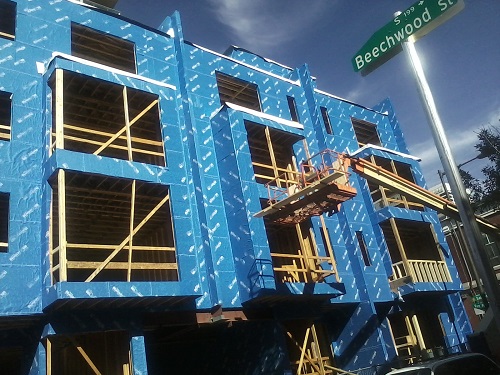 New Commercial Construction financing is available for ~

Multifamily,
Industrial,
Office,
Retail,
Condos
Your projects should range from $20million to $300,000 million and be in or around Major Metro Areas, no rurals.

And please click on this link for New Commercial Construction financing criteria. 
---
Search Engine thesaurus

Commercial Loan
Commercial Lending Loan







Commercial Property Services
Commercial Lending Solutions
Commercial Realestate Bridge Lending